The Limb Salvage and Advance Wound Care educational program is designed to be a comprehensive course focusing on the diagnosis and treatment of pathology affecting the lower extremity, with emphasis on the complexity associated with the wound care and the limb salvage patient.
This activity goal will be objectively attained by providing clinically relevant educational topics for each outlined learning objectives coupled with the integration of this information with best practices for optimal patient outcomes.
C3's approach to amputation intervention involves a multidisciplinary approach with our podiatry colleagues. In this 3-day dedicated course designed for our podiatry limb salvage colleagues, we will provide unparalleled opportunity to interact with your colleagues. 
Program Highlights:
Choice of over 100 lectures topics approved for level 1, podiatric CECH:

venous tract
podiatry/wound care/limb salvage tract
critical limb ischemia/peripheral arterial tract

Participation with Academy of Physicians in Wound Healing (APWH) and the Association for the Advancement of Wound Care (AAWC) 
Everyday practice topics featuring renowned experts

infectious disease
geriatrics
lapidus bunionectomy 
adult acquired flatfoot deformity
limb salvage

Multidisciplinary summit featuring over 250 speakers
Over 50 lecture topics addressing wound care patients

wound care/limb salvage tract 
venous tract

Specific patient care related wound care topics presented by national experts from wound care societies 
Multidisciplinary case presentations highlighting wound care problems and effective clinical solutions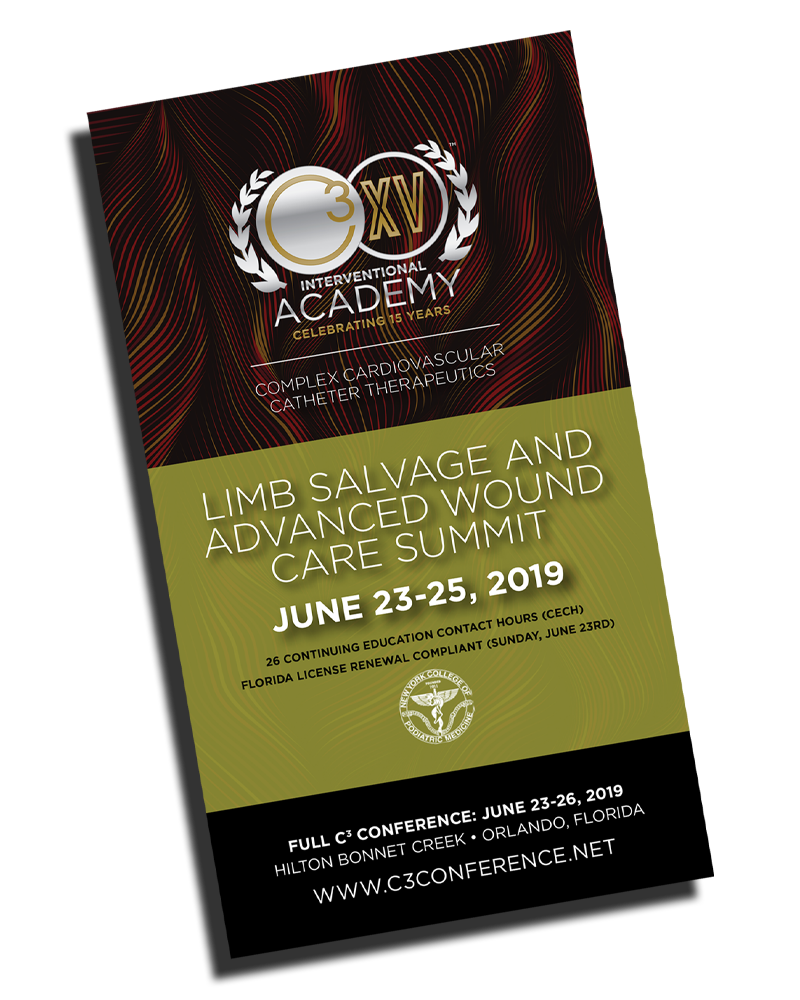 This activity has been planned and implemented in accordance with
the accreditation requirements and policies of the Council on Podiatric
Medical Education (CPME) through the joint providership between C3
Wound Care / Interventional Academy and NYCPM. C3 Wound Care /
Interventional Academy has approved this program for 26 CE hours.